Supplier visit to Laverstoke Park Farm…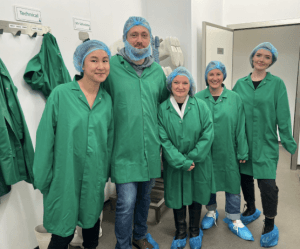 Last week we had the pleasure to spend time with the team at Laverstoke Park Farm to get an insiders perspective on how they produce their signature Buffalomi cheese which is the star ingredient of our vegetarian burger.
What struck us was the attention to every detail in the production process: from buying the manufacturing equipment from the home of halloumi, Cyprus, to hand packaging and sealing the products, the passion and care they show was apparent. Every stage of the production process is checked to maintain the quality of the cheese.
We were also delighted to see just how fresh their cheese really is – milking the buffalo, pasteurising the milk and making the cheese all happen in less than 24 hours and, with the cheese being made to order, you can't get any fresher than that!
We also had the chance to meet the buffalo, from the "nursery" where the newborns live to the larger sheds where the mature buffalo spend the winter before being let out in to the fields to roam for the summer, these buffalo really do have a wonderful life. With homemade silage made to a bespoke recipe to tuck into, fields and meadows sown with a special mix of 31 different plants, herbs and grasses to graze upon and classical music played during milking in the dairy, the results spoke for themselves when we tasted the Buffalomi. Divine!
Laverstoke is the only buffalo farm to be 100% organic in the UK and sustainability is at the heart of everything they do and to meet a supplier who is just as passionate about what they do as and shares the same values as us was really special and inspiring. Understanding the expertise and care that goes into their produce gave us a greater appreciation for the dish itself and we can't wait to share this with our guests. Thank you to all the team at Laverstoke for hosting us – we loved every second of our time with you. Hopefully see you again soon!